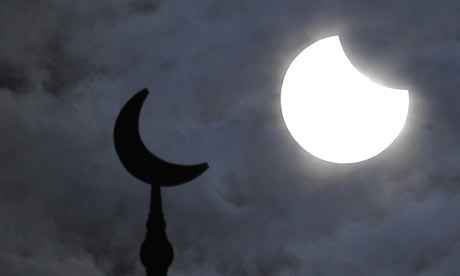 Solar eclipse is seen in Yinchuan, capital of northwest China's
Ningxia Hui
Autonomous Region, at 8:33 a.m. on Wednesday, July 22, 2009. Photograph: Wang Peng/AP
The longest solar eclipse of the 21st century pitched a swath of Asia from India to China into near darkness Wednesday as millions gathered to watch the phenomenon.

But millions more, gripped by fear, shuttered themselves in. India abounds in superstitions and fables based on Hindu mythology, one of which says an eclipse is caused when a dragon-demon swallows the sun.

The eclipse is caused when the moon covers the sun completely to cast a shadow on earth...
Why blame the poor Hindus? Shadows cast by the moon are ominous, indeed!